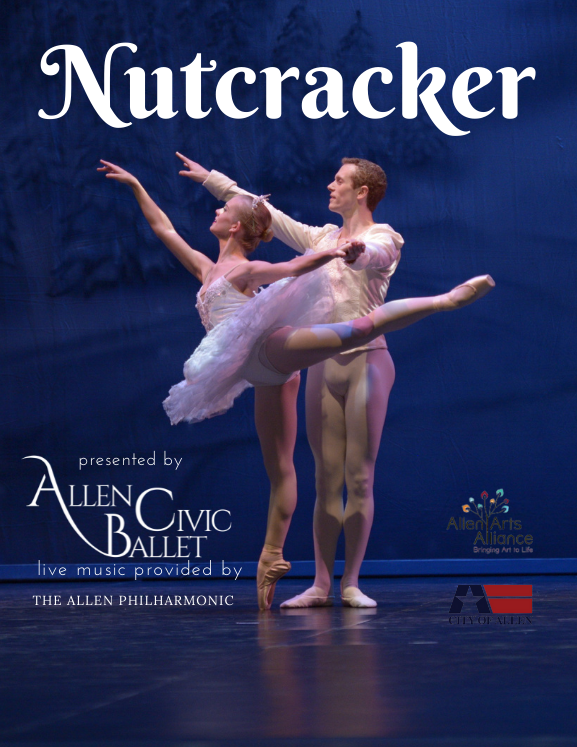 The holiday season is approaching, and what better way to celebrate than by attending the 25th Anniversary Performance of the Nutcracker by the Allen Civic Ballet! This year, we have something truly spectacular in store for you. Join us on December 9th and 10th, 2023, at the Allen Performing Arts Center for a magical evening you won't want to miss.
A Quarter Century of Enchantment
For a quarter of a century, the Allen Civic Ballet has been enchanting audiences with the timeless classic, "The Nutcracker." This year's milestone performance promises to be our most breathtaking yet. Join us as we celebrate 25 years of tradition, beauty, and wonder.
Special Guest Dancers: Stephanie Rae Williams and Elias Re
To make this anniversary even more unforgettable, we are thrilled to welcome guest dancers Stephanie Rae Williams and Elias Re, courtesy of the Dance Theater of Harlem. These talented performers have graced stages worldwide with their extraordinary artistry and passion for dance. Their presence will undoubtedly add an extra layer of magic to an already enchanting production.
Stephanie Rae Williams, known for her grace and elegance, has won the hearts of audiences with her performances. Elias Re, with his dynamic and expressive style, has captured the attention of dance enthusiasts everywhere. Together, they will transport you to a world of dreams and wonder.
Tchaikovsky's Composition: The Heart of the Nutcracker
What's a Nutcracker performance without a live orchestra? This year, the Allen Philharmonic Orchestra will provide the enchanting sounds that accompany this beloved ballet. Their harmonious melodies will fill the Allen Performing Arts Center, immersing you in the magic of Tchaikovsky's score.
Dates and Venue
Mark your calendars for December 9th and 10th, 2023. The Allen Performing Arts Center located at 300 Rivercrest Blvd, Allen, TX 75002 is the place to be for this grand celebration of art and tradition. With its state-of-the-art facilities and comfortable seating, it's the perfect setting to experience the Nutcracker's magic.
Tickets and Reservations
Don't wait until the last minute to secure your seats for this extraordinary event. Tickets are available online at AllenCivicBallet.org , and at the Allen Performing Arts Center box office. Gather your family, friends, and loved ones for a night of enchantment that will surely become a cherished holiday tradition.
A Night of Tradition and Magic
The Nutcracker is more than a ballet; it's a timeless tradition that brings families and communities together. This year's 25th Nutcracker is not just a performance; it's a milestone celebration. Join us for a night of enchantment, where dreams come alive and magic fills the air.
We can't wait to share this unforgettable evening with you. The 25th Anniversary Performance of the Nutcracker by the Allen Civic Ballet, featuring Stephanie Rae Williams, Elias Re, and the Allen Philharmonic Orchestra, is a testament to the power of art, tradition, and community. See you there!