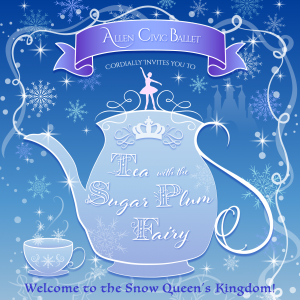 The Allen Civic Ballet invites you into the Snow Queen's Winter Wonderland for Tea with the Sugar Plum Fairy. Sip tea or lemonade and nibble on treats from Mother Ginger's kitchen as the Gingerbread Chefs toil away. Mother Ginger brings imagination to life as she tells the story of the "Nutcracker" for you at this special event. Characters from the Nutcracker Ballet will be in attendance for meet and greet with the guests. Clara and Fritz have a cozy sofa by their Christmas tree to visit with guests, the Sugar Plum Fairy will graciously share a seat on her throne, and you can sit with the Snow Queen in her beautiful sleigh amongst the magical winter forest trees.
When: December 3rd, 2023 3:00pm
Where: Allen Performing Arts Center
300 Rivercrest Blvd, Allen Tx 75002
The cost is $25 per person. 
ALL SALES ARE NON-REFUNDABLE
https://allencivicballet.org/tea-with-the-sugar-plum-fairy/
All children must be accompanied by an adult. Children ages 0-2 years may attend for free, provided they remain on your lap and do not require their own plate. However, you must purchase a ticket for them if they need their own seat and their own plate.
IMPORTANT INFORMATION PLEASE READ CAREFULLY
The only way to guarantee that you won't share a table with people not in your party is to buy all the seats at your table, or go with a friend.
Tea Reservations are not refundable and non-exchangeable. However, they are transferable. Please email us at allencivicballetevents@gmail.com no later than 7pm the night before, and include the name of the party that will be taking your reservation.
Your purchase of seats for "Tea with the Sugar Plum Fairy" signifies your understanding and acceptance of the above terms and conditions, and that you hold the Allen Civic Ballet and all its agents harmless for any injuries sustained or illnesses contracted by you or your child during the "Tea with the Sugar Plum Fairy."